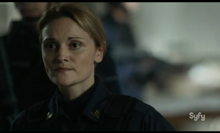 Lt Cdr Patty Winger aka "Winger" is a "tough love" leader of the coastguard in Helix Season 2. She first appears in Episode One: San Jose to reluctantly transport the CDC doctors to the island, but shows up later in the series bringing with her a group of armed coastguards to join the action. Winger is portrayed by actor Patricia Summersett.
IMDB http://www.imdb.me/patriciasummersett
Facebook https://www.facebook.com/patriciasummersett
Twitter @summersettband
Ad blocker interference detected!
Wikia is a free-to-use site that makes money from advertising. We have a modified experience for viewers using ad blockers

Wikia is not accessible if you've made further modifications. Remove the custom ad blocker rule(s) and the page will load as expected.